for a good cause: football related fundraiser this weekend
I'm avid sports fan! I watch them on a TV and jump on a pitch any chance I get!
Throughout the years, I've accumulated my fair share of injuries from the simple twisted ankle all the way to shattered writs and kneecaps!
Still, I cannot give sports up and need them to maintain a bit of sanity!
unfortunately, not all players have insurance that can help them get through injury and lift the many potential financial liabilities that can/do/will come with it. It's just a reality that most people, unless professianally paid to play, have to bear the cost of the hobby.. especially in a city like Beijing. So when this little message made it my way, it hit really close to home!
What is flabbergasting to me is the community support in each of this cases as it could be you or it could be me! It don't matter, we understand the addiction to the game and try to get each other through: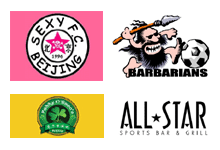 Football Fundraisers Coming This Weekend!

The next two weeks will see three football fundraisers to support members of our community that have sustained serious injury in recent weeks and who need a helping hand.

Two fundraisers are organized by the good folks at Sexy FC to help player and CF referee Nasir who sustained a badly broken arm while turning out for the pink army. The third is staged by the mighty Barbarians to help David Vaughan who suffered a broken kneecap in 3 places whilst turning out against IFFC Champions L'Equipe. For more info on what promise to be seriously fun events please read the full story.

The extravaganza kicks off on on Saturday 20th at 2pm with "Paddys World Cup Knock Out Extravaganza" kindly hosted by Dulwich College off exit 7 of the airport Express. Teams of two are drawn from a hat and compete to score in one goal (against one goalkeeper) to progress to the next round. Those left on the sideline can take solace in a BBQ and beer with spot prizes for those brave enough to come in fancy dress.

The madness continues on the evening of Saturday 20th from 20:00 until 23:30, when the All Star Sports Bar & Grill in Solana will host the Barbarians fundraiser. Just RMB200 will get you a top-knotch buffet, all the draft beer you can drink and four raffle tickets. Those without a taste for the lucky draw can get into the action for RMB150 and those that want to increase their chances can buy extra tickets for RMB25 or 6 for RMB100.

Finally, on the evening of Friday 26th June evening a second Sexy FC fundraiser sees a "Race Night at Paddy O'Shea's" and promises an evening of horse-racing frivolity complemented by special offers on selected drinks and a lucky draw. Prizes are still being sought so if you'd like to support your community and earn a bit of exposure please contact us now.
get out there, have a few drinks and celebrate sports! I personally know Nasser for playing against him more than one and having him as a referee on quite a few games… he's a good lad and his dedication to the game commendable